Who We Work With: Owners and Enthusiasts
Bergey's Part Warehouse Welcomes You-- Yes, You!
Whether or not you're a first- time car owner, a long term car owner with no mechanical background or the die-hard enthusiast looking for the next project, Bergey's Parts Warehouse welcomes you. No matter where you fall in the category of consumer, Bergey's welcomes you to our website and our warehouse location to purchase your Ford parts, GM parts, or your Chrysler parts.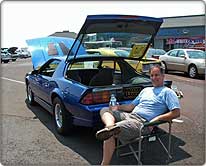 Options Available To You as a Consumer:
With so many options we hope that finding the part you need to get back on the road is a simple experience. We have a FAQ page that can also help answer any questions you may have. Do not hesitate to call our location and ask any questions you may still have.Visit our Bergeys family facebook if you're proud to show off your ride with pride!