Who We Work With: Collision Repair Shops
Bergey's auto parts warehouse works in collaboration with collision and body repair shops.
Our delivery drivers know that accuracy and timely delivery is key to keeping your body shop moving smoothly. That is why we have local delivery drivers who make their routes short, sweet and to the point. We also have fleet vehicles that take parts to customers such as those in Philadelphia, New Jersey and parts of northern Delaware. Please view our Service Area for more specific counties that we deliver to. Speak to our part specialists to find out more detailed information about times when our delivery drivers are in your neck of the woods.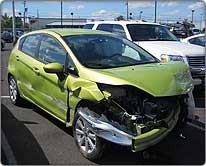 Should you prefer to take advantage of our online ordering system for your collision parts, please use our Collision Link catalog for all of your collision part needs.
If you'd like to pick up your auto parts, please feel free to order your parts via phone/online and let us know you'd like to pick them up at our front counter. Click here for directions to our Colmar parts warehouse.